The Caldon Canal runs from Etruria to Leek and to Froghall where there is a link to the Uttoxeter Canal, currently being restored.
The canal leaves the city through the Bedford Street staircase locks, traverses Hanley Park, becoming rural after Abbey Hulton. There are lock flights at Stockton Brook and Hazlehurst, where the canal divides with one lock-free arm leading to Leek via a short tunnel and ends at the feeder stream from Rudyard Lake, whilst the other descends the Churnet Valley via 8 more locks to Froghall. The towpath has recently been upgraded to link Stoke-on-Trent to the Peak National Park. The Staffordshire Moorlands link is part of overall £5m Pedal Peak project which is a Staffordshire County Council/Canal & River Trust initiative. In 2013, Phase 2 of the project was awarded £5 million from the Government's National Park Cycle Fund.  The bid was produced by a partnership of authorities including Staffordshire County Council, Derbyshire County Council, the Peak District National Park Authority, Barnsley Metropolitan Borough Council and Sheffield City Council. The project will deliver four new cycle routes, including the Staffordshire Moorlands Link, to encourage more recreational visits to the Peak District by bike. It will also provide a boost to tourism and the rural economy.  The Staffordshire Moorlands Link is an off-road route from Stockton Brook, at the boundary with Stoke-on-Trent, along the Caldon Canal towpath to both Cheddleton and Leek.  From there it is an off-road signed route to the Roaches from Leek and to the Manifold Valley from Cheddleton where there is already a recreational cycle route.
The Inland Waterways Association North Staffordshire & South Cheshire Branch and the Caldon & Uttoxeter Canals Trust volunteers are active on this canal and within Churnet Valley Living Landscape Partnership with regular parties attacking the invasive Himalayan Balsam infestation and undertaking a range of activities including towpath improvements, repainting structures, hedge-laying and undertaking small repairs to structures. Stoke-on-Trent Boat Club has its base at Endon and there is a proposal to create a basin at the end of the Leek Arm as part of a scheme which will link canal and the Churnet Valley Railway to create a tourism destination whilst providing new housing for Leek.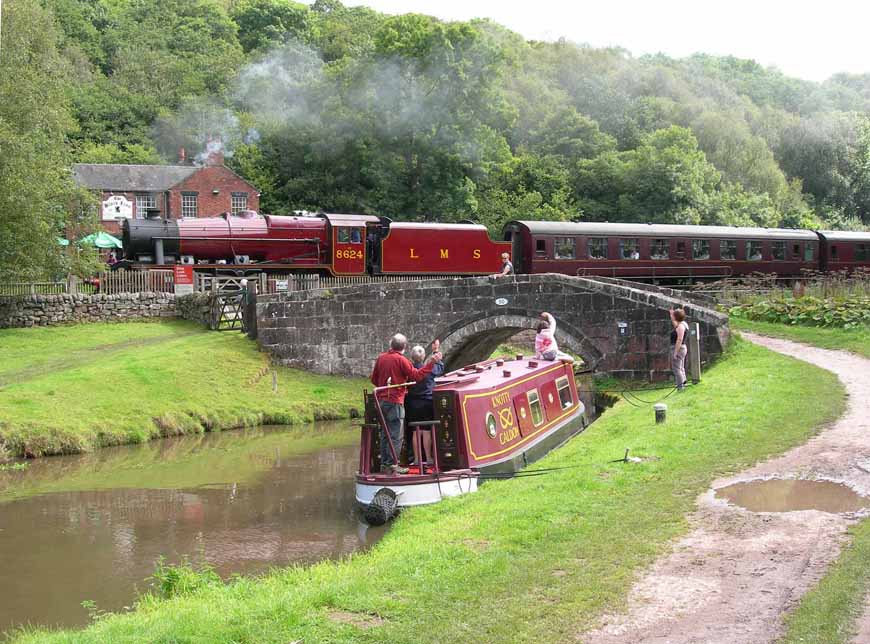 Churnet Valley Railway and The Black Lion, Consall Forge, Caldon Canal. Photo courtesy Waterway Images Ltd.