The Trent & Mersey Canal from the Dove Aqueduct near Burton-on-Trent to Kidsgrove.
This canal is a popular cruising route forming part of the 'Cheshire Ring' and the 'Four Counties Ring' and is maintained by the Canal & River Trust Central Shires Waterway. Starting with a series of wide locks from the River Trent, the locks are narrow between Burton-on-Trent and Middlewich.  There are lock flights at Fradley, where there is a junction with the Coventry Canal, Stone, Meaford and Stoke-on-Trent. Between Rugeley and Stone, the locks are well spread out, following the gentle rise of the river past Shugborough, Great Haywood and Weston. In the north of Stoke-on-Trent, the canal passes Westport Lake before entering Harecastle Tunnel, one of the longest on the network. The towpath was upgraded at the beginning of the 21st century and forms part of the Sustrans Cycle Network, so is well used by cyclists, pedestrians and anglers. This improvement was recently extended to Meaford with SCC funding, thereby removing a badly drained, muddy section, with a resulting increase in walkers and cyclists using this section. Barlaston Parish Council has adopted a mile of canal here.
The Trent & Mersey Canal is well provided with marinas at Barton Turn, Fradley (on-line moorings), Kings Bromley, Great Haywood, Aston, and Etruria, with a further one proposed at Wedgwood.
Voluntary associations on this canal are the Trent & Mersey Canal Society, Inland Waterways Association North Staffordshire & South Cheshire Branch and Inland Waterways Association Lichfield Branch.  The Inland Waterways Association and Canal & River Trust have recently worked very effectively together in combating a threat from the proposed HS2 railway. In Kidsgrove, various groups are working together to improve the canal frontages around the entrances to Harecastle Tunnel.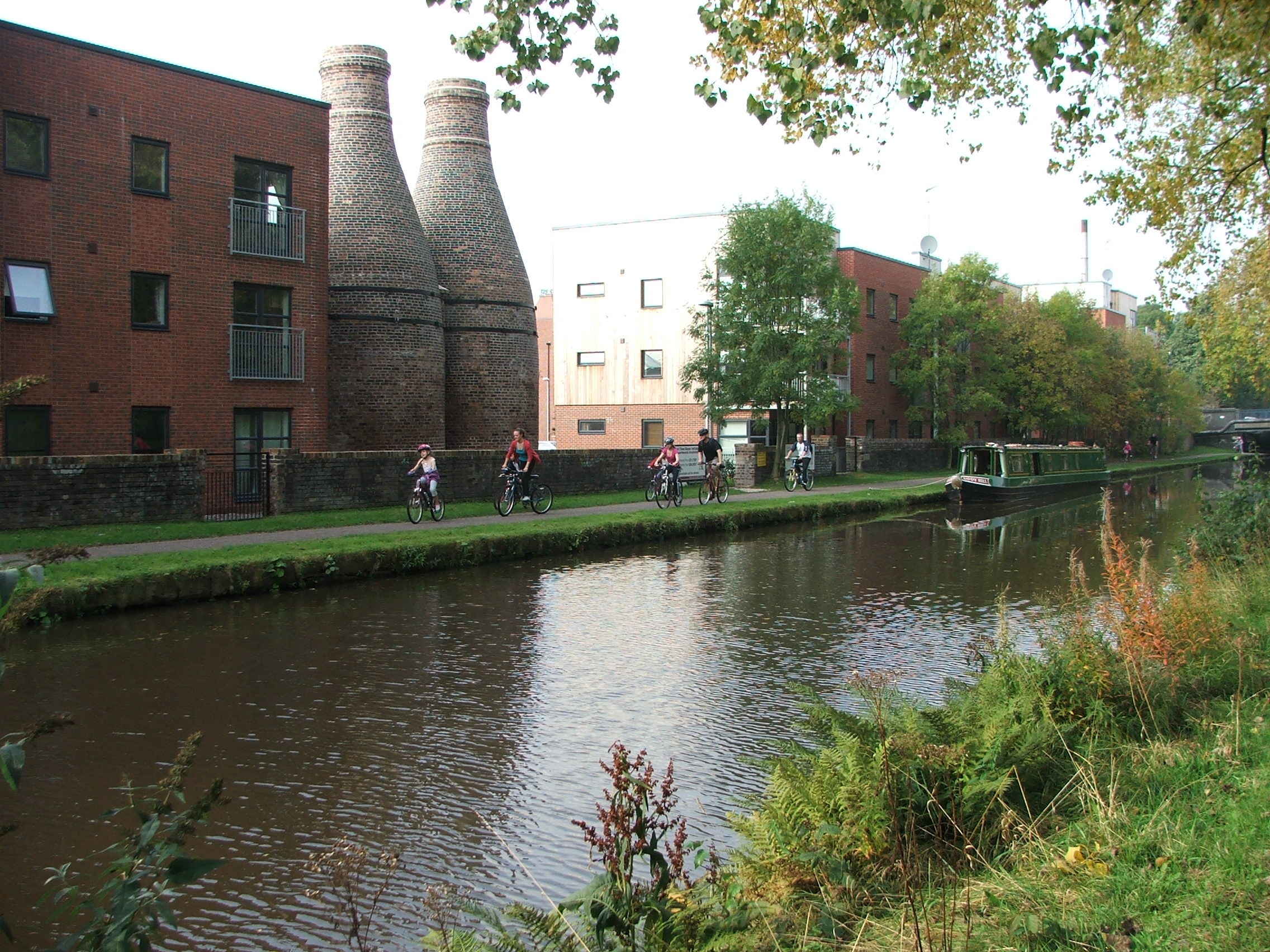 Bottle ovens and new flats in Stoke-on-Trent, Trent & Mersey Canal. Photo courtesy Waterway Images Ltd.