The Staffordshire section of the Staffordshire & Worcestershire Canal runs from Great Haywood to south of Whittington near Kinver. Leaving the busy Great Haywood junction and passing almost immediately through the very popular Tixall Wide, the canal climbs steadily, skirting Stafford and Penkridge on its way to the summit. After a lock free section from Gailey to Compton, near Wolverhampton, the canal has a number of locks, which drops the canal down to the level of the River Severn at the canal's termination at Stourport-on-Severn. It passes through the outskirts of Wolverhampton where it links with the Shropshire Canal at Autherley Junction and with the Birmingham Canal Network at Aldersley Junction. At Stewponey, there is the junction with the Stourbridge Canal, of which 2 miles is in Staffordshire giving access to the glass industry. There are stretches of well-maintained and heavily used towpaths alternating with more rural sections where the vegetation often encroaches on the towpath.
Voluntary associations having an interest in the maintenance and conservation of the canal are the Staffordshire & Worcestershire Canal Society, Inland Waterways Association Birmingham & Black Country Branch, Inland Waterways Association Lichfield Branch, Stafford Riverway Link CIC and Birmingham Canal Navigations Society.  There are a number of village and city neighbourhood groups that also have a care for the canal where it passes through their communities. In the main, moorings are well marked and maintained although others, such as at Radford Bank, Stafford, are presently unmarked and poorly maintained.  There are marinas at Stafford Boat Club, Calf Heath,  Gailey, and Ashwood near Wall Heath.  Planning permission has been given for a new marina at Swindon.  The proposed Stafford Riverway Link would provide access to Stafford town centre. This will eventually link Stafford to the national waterways network and will generate income from increased boat traffic.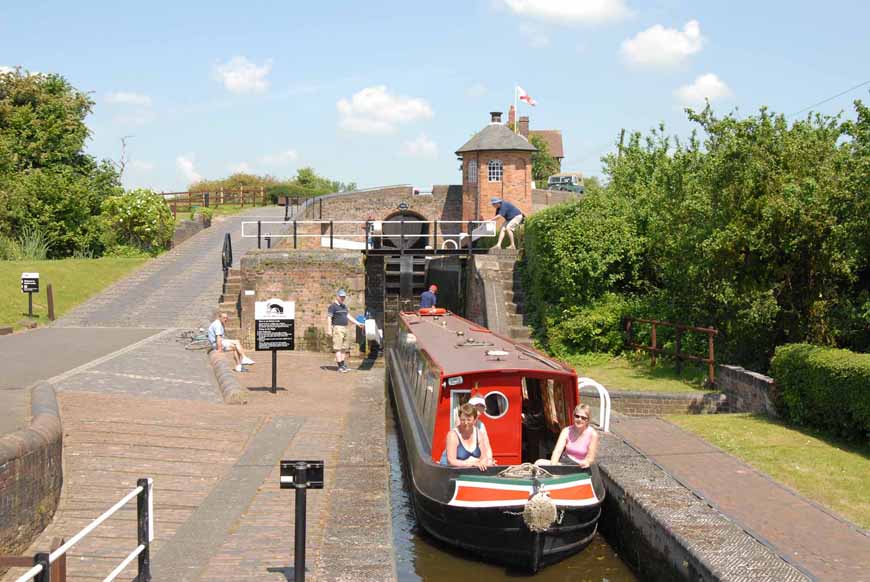 Bratch Locks, Staffordshire & Worcestershire Canal. Photo courtesy Waterway Images Ltd.