The Coventry Canal from Fradley Junction to Alvecote
Starting with a pedestrian swing bridge at the junction with the Trent & Mersey Canal at Fradley, the Coventry Canal heads off on an 11 mile lock free course to Tamworth, then after two locks at Glascote, continues for a further four miles to the Warwickshire border at Alvecote, near Tamworth. The route is almost entirely rural before it reaches Fazeley, a suburb of Tamworth, where it makes a junction with the Birmingham and Fazeley Canal.
Four miles from Fradley at Huddlesford Junction the canal is joined by the Lichfield Canal which is currently under restoration along with the Hatherton Canal. When complete, the restored canals will form a link with the Birmingham Canal Navigations and Staffs and Worcester canal at Hatherton, so creating new cruising "rings" for boaters. A further half mile or so along the Coventry brings you to the pleasant village of Whittington, some 3 miles from Lichfield. The canal then continues on to the village of Hopwas via an attractive wooded section running along an embankment above the River Tame. 3 miles further on the Canal arrives at Fazeley. There are ample on-line moorings at Streethay Wharf  and a newly constructed marina at Kings Orchard near Whittington. The towpath is in reasonable condition for most of the 15 miles but generally quiet with just the occasional angler or dog walker other than in the Tamworth area where it is very well used.
Voluntary associations on this canal are the Coventry Canal Society and Inland Waterways Association's Lichfield Branch and Warwickshire Branch.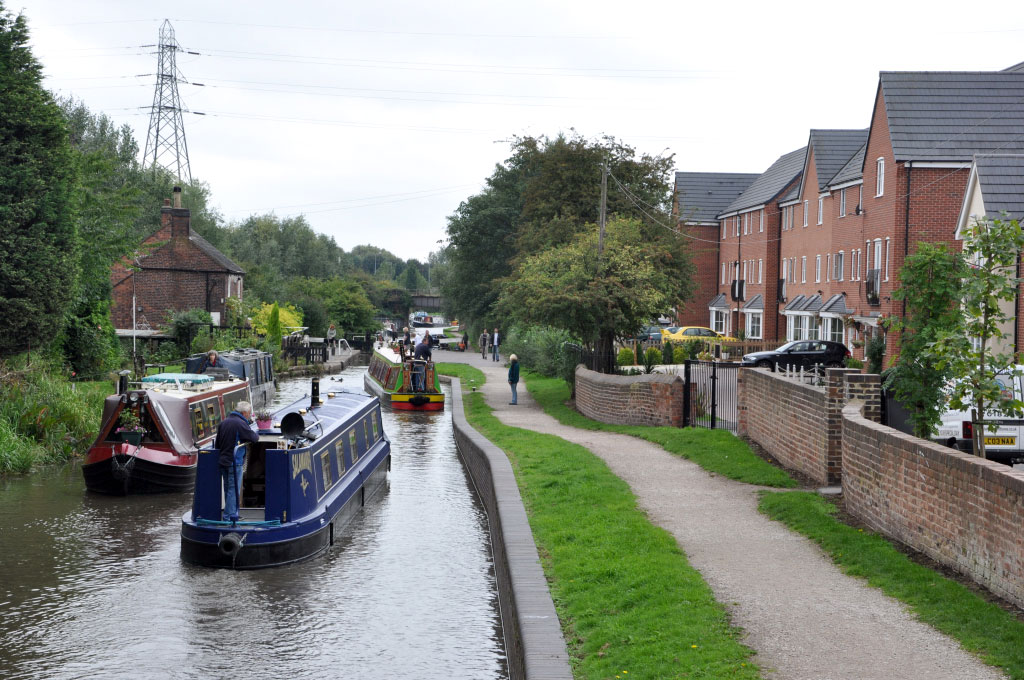 Boats above Glascote bottom lock on the Coventry Canal. photo courtesy Phil Sharpe.