Vision: The Canal will be restored to full navigation as a new tourism and sustainable transport route through the Churnet Valley for 13 miles between Froghall and Uttoxeter. Restoration will encourage visitors to Uttoxeter and create a range of new employment opportunities along the full length of the canal in areas where they are much needed, as well as boosting existing businesses in Froghall, Oakamoor, Alton, Denstone, and Rocester.
The canal, which opened in 1811 and closed in 1849, is largely still present as the foot of the valley has undergone minimal redevelopment other than the opening and subsequent closure of this part of the North Staffordshire Railway network. A study carried out by Halcrow in 2008 concluded that "… this is a technically feasible project." Since then volunteers from Caldon & Uttoxeter Canals Trust have undertaken a number of projects, most recently using Heritage Lottery Fund money to improve a section of towpath and bridge at Crumpwood. Work parties have attracted volunteers from across the country, demonstrating that this would be a popular and well-used canal.
Restoration will give focus to the proposed regeneration of Froghall and access to Alton Towers by water. An access point to the proposed development at Moneystone Quarry would give an off-road route for walkers and cyclists. Parts of the restoration could go hand-in-hand with extension of the Churnet Valley Railway to their proposed new terminus close to Alton Towers. Beyond Denstone, restoration of the original canal is not viable as it passes through the church in the village, then through the JCB factory at Rocester. In Uttoxeter the town was approached along what is now the westbound carriageway of the A50, with a terminus in the Wharf area of town, which was completely rebuilt as a residential area some years ago. However there are several viable new alignments, reaching a terminus in the proposed water park at the gravel pits next to the A50; a concept which has been supported by East Staffs Borough Council.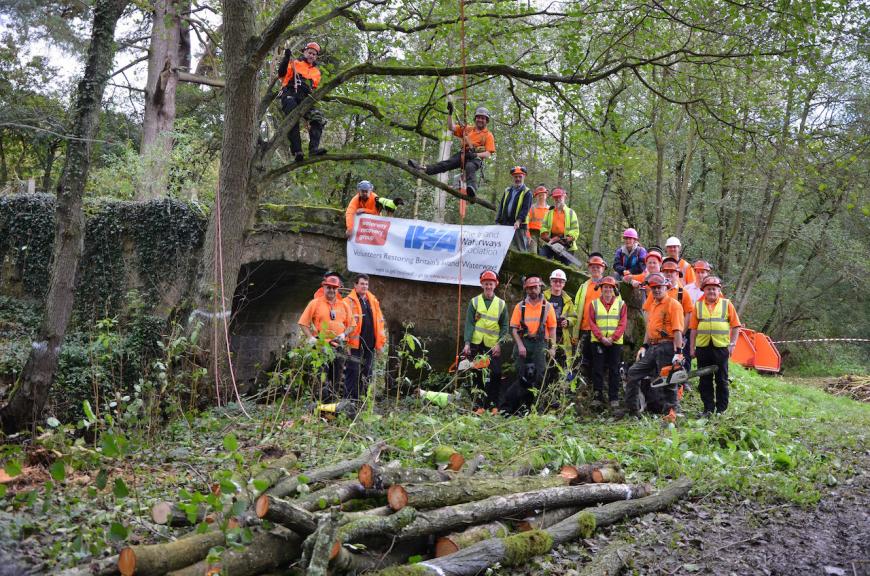 Waterway Recovery Group Forestry Team about to begin tree management at Bridge 70, Crumpwood, on the Uttoxeter Canal. Photo courtesy Waterway Images Ltd.